During our 30 years of experience, at Hotel Marquis Reforma & Spa we have always distinguished ourselves by having as a number one priority the care of our guests and collaborators.
During these months we have looked closely the impact of the pandemic worldwide, derived from these, we have strengthened all our sanitation protocols according to all the recommendations made by international organizations, in order to guarantee a safe return to our facilities.
We are glad to share some of the main actions we have implemented at Marquis Hotels to fulfill the international sanitary protocols for the hospitality industry like the Global Biorisk Advisory Council.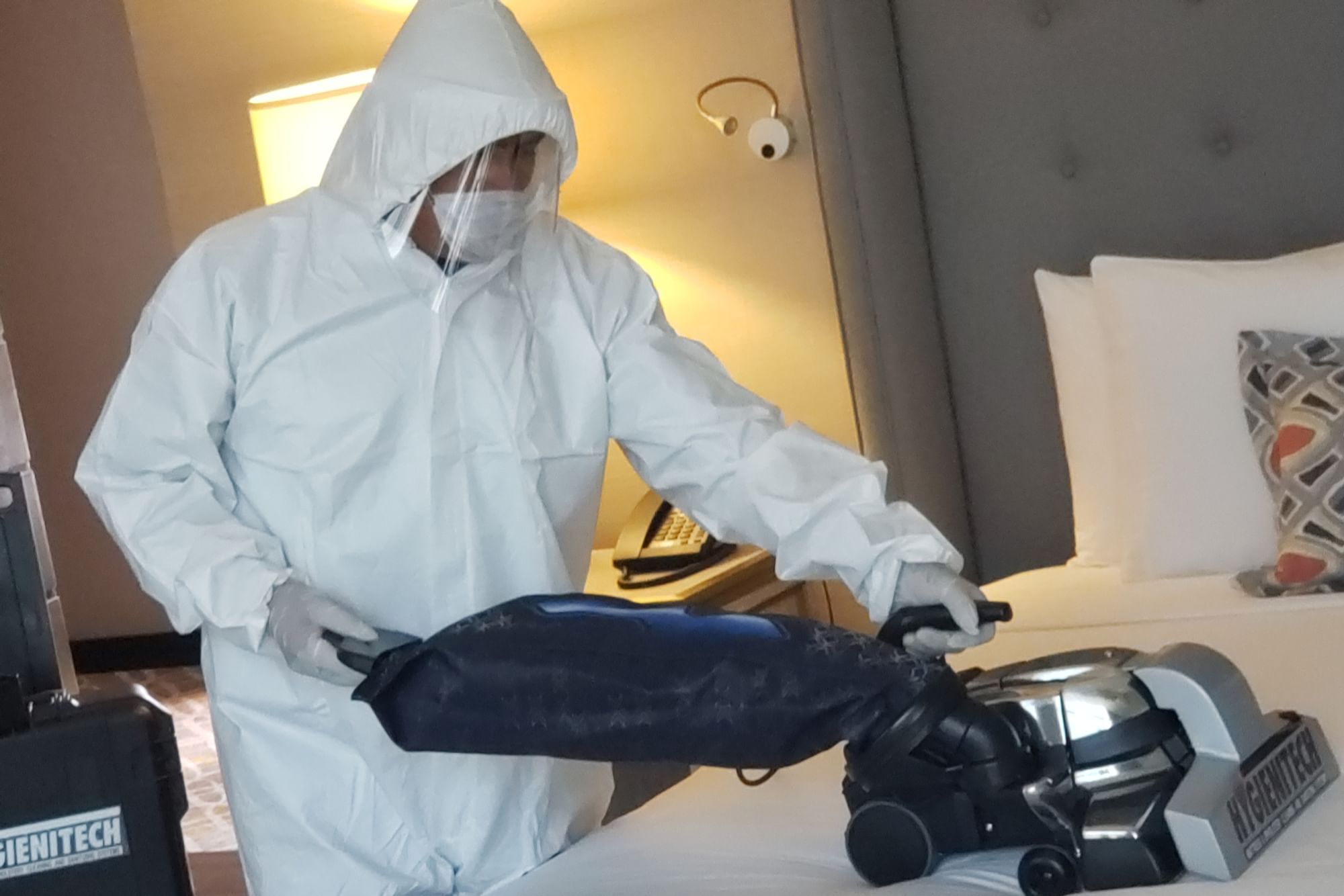 COVID-19 ACTIONS
Marquis Reforma Cares About Your Health
ARRIVAL
Upon arrival all guests pass through an Auto Sanitizing Gate located at the main entrance.

Guest room allocation at 30% per floor to allow a healthy distance between rooms.

A specially conditioned area was designated to comply with the recommendations for social distancing, where we receive all the guests and take their body temperatures with infrared thermometers to avoid contact.

Thermographic cameras placed in the main lobby to measure the corporal temperature of all clients visiting restaurants and different areas of the hotel.

Our personal wear face masks, disposable gloves and face shields.

Our hotel

transportation

thoroughly sanitized internally and externally prior to each guest transfer be equipped with sanitizing products for your use.

Doorman and managers greet guests, while maintaining a safe distance, with no physical contact.

Hand

sanitizers/disinfectant gel and disposable masks is available at the entrance of the

lobby.

All guests undergo temperature checks in

before

entering

the hotel. Guests running a temperature of more than 99.5°F will be met by a hotel manager to provide medical assistance and advise further course of action.
Handbag trays are sanitized after every

baggage

scan.

Hotel umbrellas are disinfected after each use.

Car keys are sanitized when delivered to the doorman and when returned to guests.

All guides / local agents undergo temperature checks at the upon their arrival.

Any

visitors with a temperature of more than 99.5°F will not be permitted to

enter

the hotel.

Face

masks are mandatory and available for anyone who does not

have

one.
All

baggage

is sanitized on arrival with correctly formulated disinfectant.

Each guest will find in their rooms a hand sanitizer for their personal use.
CHECK IN AND CHECK OUT EXPERIENCE
Guests arriving from restricted countries or regions must share detailed information before registering, as prescribed by the protocols of the Ministry of Tourism.

All information required for registration is requested in advance to reduce the time spent upon arrival.

Digitized exit procedures with electronic invoices and online payments are available upon request.

Guests are requested to advise check-out plans at least 60 minutes in advance so

that

the bills can be prepared in time for the check-out.
HOUSEKEEPING
Cleanliness and sanitization of guest rooms and public areas
All our protocols are based on the recommendations made by the WHO (World Health Organization) as well as Mexican Authorities.

Our cleaning staff continually cleaning and sanitization of all touch points in the lobby and other public areas such as counter tops, telephones, door handles, elevator buttons, railings and lobby & guest corridor furniture.

Rugs are vacuumed, and floors are mopped with disinfectant solution.

Ashtrays in smoking areas are cleaned and sanitized every thirty minutes.

Signage will be present in the lobby for maintaining safe distances.

Hand

sanitizers are available at all counters, (cloakrooms, restaurants, guest corridors and guest rooms).

Unused

room linen and bath linen are also sent to the laundry on departure.

Deep rooms cleaning done with extra focus on surfaces such as door handles, knobs, remote controls, writing tabletops, switches, telephones,

WC

flush handles, health faucets, vanity counters and floors.

Pillows, cushions, sheets, sheet protectors, shower curtains, duvets and all linen are sent to the laundry for cleaning each guest departure.

Heavy curtains, sheer curtains, blinds, rugs, upholstered furniture and headboard cladded with fabric are deep cleaned every departure.

In

occupied rooms, all used glassware is washed in a dishwasher for high-temperature cleaning, at above 80°C.

Hand

rail

, stairs and staircase landing in fire exit areas will be cleaned every

day.

The rooms are subject to strict sanitization processes before the guest arrival and after each guest departure, using the cutting-edge technology and certified sanitizing products.

Additionally, we have acquired special UV equipment used for the elimination of any kind of bacteria and virus. These devices are used to sanitize all high-risk surfaces such as telephones, controls, handles, buttons, etc. Applying in this way a double disinfection process.
RESTAURANT & BAR (FOOD & BEVERAGES)
Restaurant seating were reconfigured to

ensure

safe distances.

Hostess desk, phone and charger are disinfected every 30 minutes or every use.

Entrance doors are open during meal periods.

If

the door needs to be

kept

shut, assistance is offered so guests do not

have

to touch handles.

All tables and chairs are sanitized before and every meal period and every guest use.

All electronic menu tablets and credit card machines are sanitized before and every use.

Our personal sanitize their hands before holding tablets and card machines or exchanging any

currency.

Sanitizer gel is presented to the guest along with all bill folders.
Bartenders wear

and

frequently change disposable gloves when working at bar counters.

Alcohol display trolleys with bottles and humidors are cleaned and sanitized before and each meal period.

Equipment such as coffee machines, ice crusher machines, ice machine doors, induction surfaces, cutlery trolleys, tea selection boxes, etc. are sanitized after every use or on a frequent basis.

The Hotel renews every year its certification named: "Distintivo H" which is a special certification for restaurants following the highest sanitation standards according to the Mexican Norm: NMX-F605-NORMEX-2018.

Certification of suppliers and strict sanitization and quality guidelines that must be fulfilled during the reception of supplies and merchandises.

New service standards to minimize the personal contact, for example all our restaurant menus are displayed in your mobile using a QR code.

Strict guidelines for the reception of staff, as well as the equipment used during their shifts. Hygienic handling of foods with hospital-grade disinfection processes for kitchens and utensils.
IN-ROOM DINING
In-room

dining trolleys and warmers are cleaned and disinfected after every use.

Service staff wear disposable gloves, face masks, face shields and carry hand sanitizers, maintaining a safe distance.

All dishes are covered with a cloche.

Canned beverages are opened by the server only seeking guests' permission.
KITCHEN
Kitchen staff

enter

the kitchen in fresh uniform, hair nets, chef caps and aprons. On each occasion, they wash their hands prior to

entering

the kitchen.

Our staff wears face masks. Gloves are used in all areas of the kitchen other than at the hot cooking range. Gloves are changed, and hands washed every task.

All the staff movement is clockwise to reduce cross traffic and maintain a safe distance.

All ladles and knives are washed and sanitized every use.

All surfaces and table

tops

are cleaned with a sanitizing solution after every use.
All fruits and vegetables are washed in 50 PPft chlorine before

entering

the hotel as well as the kitchen.
Grocery packets are sprayed with 100 PPft chlorine or quarantined

away

from

the

main

building.

meat,

poultry

and

seafood

are w

ashed

and

sanitized

thoroughly.
FITNESS CENTER
Hand

sanitizers, disinfectant wipes and disposable masks placed in the fitness

center

for guests' use.
All equipment is sanitized every

guest's

use.

TV,

music system remotes and headphones are sanitized each

guest's

use.
All touch points, including door

knobs

, switch plates, thermostats, etc. are sanitized each guest´s use.
SWIMMING POOL & SPA
Chlorine dosage is monitored every 30 minutes and maintained at 0.8 – 1 PPft.

Hand

rails are

disinfected each

guest's

use.
Lounge towels are changed, and pool loungers are sanitized each

guest's

use.

Pool

furniture

is arranged to

ensure

that

a safe distance is maintained between each.

Towel

basket is sanitized before placing fresh towels with no more than two fresh towels per basket.
BUSINESS CENTER
All equipment is sanitized every

guest's

use.

Each desk,

chair,

work area

and

all

equipment are

sanitized each use.
LAUNDRY
Laundry staff wear face masks and disposable gloves.

All laundry hangers, laundry bags, wicker baskets and basket liners are sanitized before and

laundry

delivery.

Separate canvas bags are used to transport soiled and fresh linen from guest rooms to housekeeping and laundry to avoid cross contamination.
PROTECTION EQUIPMENT FOR COLLABORATORS & GUESTS
All hotel staff are equipped with face masks, mouth masks, medical gloves and overall suits depending of their role in the hotel.

All guests receive with a Sanitizing Kit containing one hand sanitizer gel and one mouth mask.
MATERIALS RECEIVING
All receiving staff wear face masks and disposable gloves.

All materials, boxes, crates, sealed packets and trolleys are sprayed with disinfectant.

Vendors

follow recognized food safety standards as accredited by reputed certification bodies to

ensure

safe manufacturing, handling and delivery practices.

Provider

vehicles are allowed inside the hotel premises thorough sanitization. Body temperature is checked for the

driver,

delivery person or loader at hotel entrance to

ensure

their temperature is below

99.5°F,

or else they aren't permitted inside.
A self-declaration is taken from all the provider before they

enter

the hotel Receiving Gate confirming

that

they do not

have

any flu like symptoms such as cough, cold or a sore throat.
WATER & AIR QUALITY
Special standards and protocols have been placed for the water disinfection in all areas including pools, Jacuzzis, as well as running water. Continuously monitoring and certifying the physicochemical quality of the water.

All air ducts have been cleaned, fumigated, and sanitized, and will continue to be sanitized on a regular basis.
SOCIAL DISTANCING GUIDELINES
Clear safety signs.

The capacity of our restaurants and meeting rooms is limited to the maximum capacity established by the authorities. Making sure to always leave a 1.5 meters distance between tables.

During check in, the space between each person is duly marked to maintain a safe distance. The access to the elevators will be limited to a specific number of guests to guarantee a safe distance too.
NEW FLEXIBLE POLICIES FOR ACCOMODATION BOOKINGS
At Marquis Reforma Hotel and Spa we are aware that the circumstances of a trip can change unexpectedly, that is the reason why we decided to implement a new flexible policy for accommodation to make changes and cancellation without any cost.

We also encourage you to always leave your preferred contact method such a phone number or email so we can be in touch before your arrival and during your stay.

Marquis Reforma Hotel & Spa is now ready,

and we have restart activities on June 29th, 2020

, following all the guidelines mentioned above in this letter. We look forward to welcome you to this hotel with our authentic Mexican hospitality that has distinguished us during all these years.